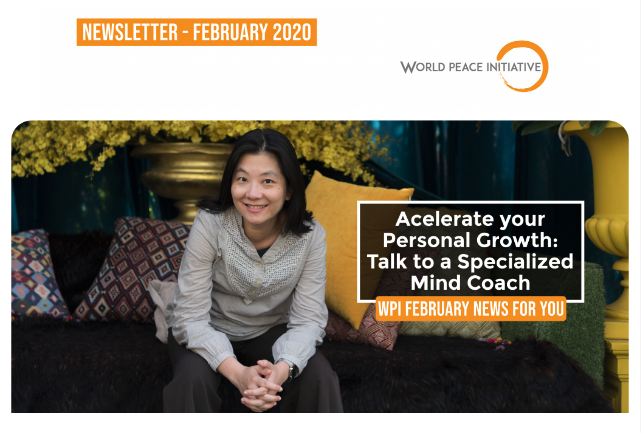 Hi,
January's gone and here comes February! How are you doing with your new year resolutions? You know, one of the things that determines whether your resolution works or not is your immediate resolve to get into action. Further down this email, I share 3 things you can take on immediately to make 2020 your best year ever! We at WPI are committed to share effective ways to create sustainable world peace through inner peace by developing new services and partnership ideas to support you thrive in your personal and professional development. We are particularly excited to launch our Mind Coaching Platform that provides you with additional features to talk with our professional meditation coaches live across the globe. This feature addresses the need by most of our users who would love more guidance and support from experienced coaches. We give you a limited time 40% discount which you can claim with this code GETPEACE2020.
A growth mindset: Consider that what pulls you down is nothing outside yourself. Your mindset will either make or break you.
Perseverance: Your ability to keep taking action, review progress and adjusting course will be your next big toolkit for success.
A guide, a coach or a mentor for your personal growth and development: a new territory needs a new map. This map is a system that is proven to get you the results you seek. Look for help, support or community of people who believe in you!
This is why we offer you a chance to plug into our team of professional meditation trainers who will guide you to fulfill on your personal development goals with tips to clear the doubts, maintain consistency and achieve inner breakthroughs.
Kelvin Goga, our outstanding Peace Coach of January says:
I have such a fulfilling ride of a lifetime mentoring amazing people across the world. Even Though I may never meet most of them in person, I am forever grateful for trusting me with your innermost fears, letting me in on secrets your immediate family and friends may never know. To reciprocate, I commit to always be here as the guide I am regardless of what may come my way.
On meditation he says:
Don't intend. Just start the Self Development Program! Planning to meditate is a (personally) tried and tested recipe for procrastination. You will figure out the intricacies in the process.